Structuring a narrative and plot isn't the easiest job in the world… in fact, it may be one of the hardest, and it doesn't get easier when you're trying to work with an unreliable narrator. In the past I've covered how 13 Reasons Why deals with mental illness and the effects of this on the narrator, I've also discussed why I think Hannah Baker is the ultimate unreliable narrator.
Why do I have such a high opinion of the way 13 Reasons Why handles unreliable narration? Well, for many reasons that I've already covered but because it practices layered narration at the same time; this is part of what makes Hannah such an unreliable masterpiece… but that's an old point. In any case, I thought I'd never find a better example of the two together until I played Hellblade; Senua's Sacrifice and found a story that not only blew my mind on a personal level but on a professional level too. Before we even get into the specifics lets just talk about the acting and the dialogue in the first Zynbel/Senua monologue;
"And now that you're home, he's so far away… They've taken his soul; to these Gods you cannot pray."
That's powerful stuff, and it borders on poetry at some points. Give it a watch if you want to know how to balance ominous malice with understanding and empathy (but be aware that the video does have spoilers);
What should be of most interest to writers about this scene, and this game, however, is the way it layers story upon story upon story. This is no doubt a reflection of Senua's state of mind but is also a clever and powerful structural tool.
Religion, Psychosis, And Layered Narration
The first thing that strikes you about Senua's Sacrifice is the voices that whisper all around you. If you wear headphones, you might even feel like they're behind you; of all the tools that this clever game uses to show Senua's mental illness or connection to the dead, they are the most haunting and least subtle. The visual cues which litter the landscape are far more poignant and gentle by far.
What is most remarkable about the use and portrayal of psychosis in this game, however, is the way they balance it with ideas of religion, mythology, and the afterlife, and the way each element impacts each story in the game.
Senua's story is, in fact, four stories. It's her story, her mothers' story, Druths' story, and the story of her warring relationships with Dillion and her father Zynbel. Each of these stories could take precedence, and while some people might feel that the way they were all mixed together made the narrative over-crowded and confusing I firmly feel that this is not the case. Why? Because each of the four stories has affected the way she goes about seeking peace with the traumatic death of Dillion, and each has had an effect on her psychological make-up and beliefs.
Her mothers' spiritualistic view to her own illness normalised Senua's early experiences, her fathers religious dogma created the fatalistic, self-blaming ideology that we see in her internal monologue, Dillions' influence made her question Zynbel, and, finally, Druths' own stories gave her the information or narrative which we follow through the game. More than this, however, Druths' stories provided the means by which the game writers could create a subtle and complex layered narrative. Senua's story, depending on which way you turn it could either be a spiritualist allegory for grief, a heroic quest into the realms of mythology, or a religiously influenced psychotic break created by grief. There is no definitive answer for us, just as there is no definitive answer for Senua. It's this plausibility which makes every part of the game, including the visual distortions and taunting voices, so haunting. The question, however, is what we can learn from it as writers.
I would argue that we can learn how to find balance, how to increase plausibility, and how to codify story elements. Three main elements of the game are all we need to study in order to gain access to these lessons; Druths' narration, Zynbel, and the 'bosses'.
Druth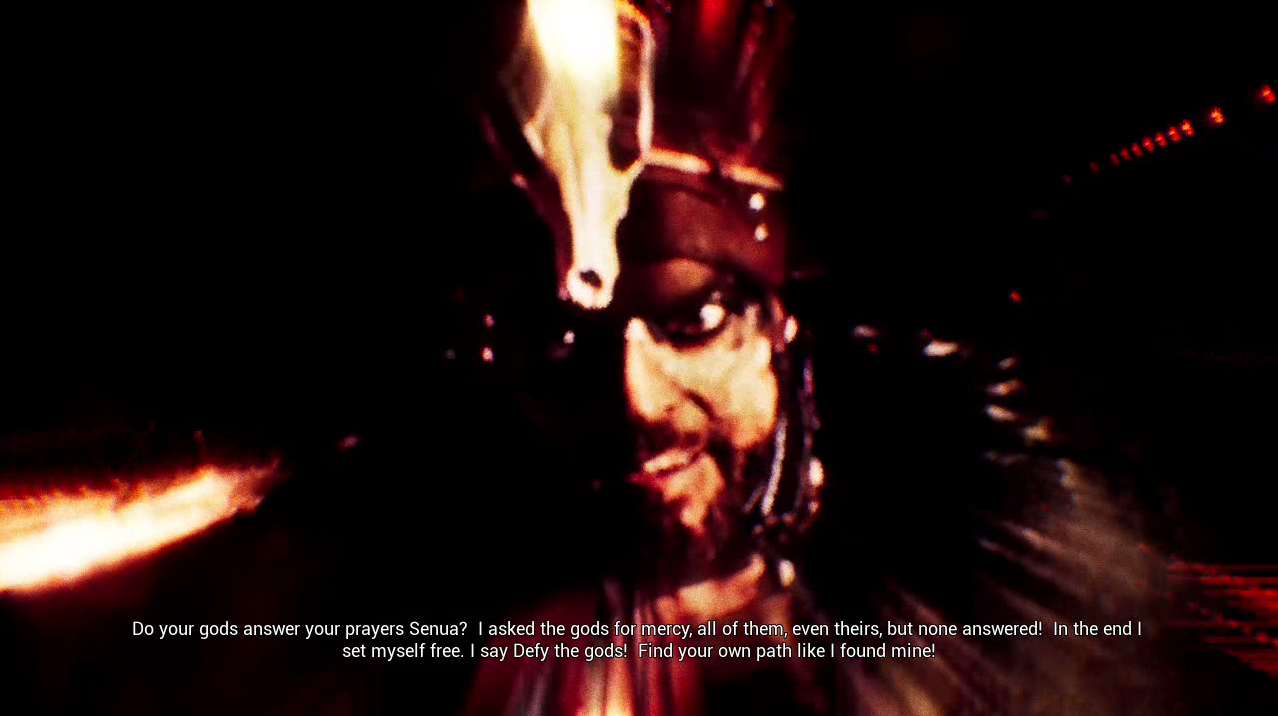 Depending upon your own view of the game, Druth is either a spirit guide to Senua or a grim imaginary friend in the image of a dead man. Either way, he performs two important functions within the narrative.
He informs us, and Senua, of the world around her.
He provides context.
In many of the less favourable reviews of Hellblade, you will find these picked out as faults. In particular, the 'lore stone' narratives are picked upon as unnecessary additions which serve only to tell unrelated stories of Norse mythology. Likewise, his 'spirit-guide' monologues are often cited as being little more than a blatant way to lead you through the game.
While this is not incorrect, per say, it is uncomplex. In terms of game mechanics, yes Druth does fulfill these roles, but he also represents so much more. For a start, he allows us, the reader/player, to make sense of Senua's chaotic life and mind when we are dropped into the thick of her darkest hour. He informs us of the beliefs to which she now clings, and if you are careful of the details you comb over he explains some of what she sees in the world around her.
For example, the very first lore stone to be found details the path that Senua was to take to Hellheim; away from Orkney and across the sea to where the land leads "down". She is to follow a river. He notes that some acts will take you straight to Hela, while "Gods and the living" should take this path. This might read as mythology, but could also be the path by which she came to enter Norway, Finland, or even Denmark depending on where the tides took her.
Already the narrative is layered; Druth shows us how she could have come to the Gods or have come to be in foreign lands. The lore stones are not always so straightforward, but when he speaks directly to Senua he is entirely straightforward. What we learn from Druths character is how to show the reader what the character is and what they can be in a deft stroke. Druth speaks to what Senua is,
" Like you Senua, the man I once was has died. And when that happens, even Gods you worship can die with you."
And to what lies ahead,
"For every battle won, a greater battle takes its place and so it goes until we fall. And in the end we all fall. Even the gods have their time."
In between these points lies the subtle implication of what could be; Senua could let go. Turn around. She could leave Hellheim and choose to lay down her sword. In novels, it is not so easy to layer stories like Druth and Senuas, but with skill, it can be done. The lesson we should take from him is to balance the need to take the reader by the hand, the necessity of letting them breathe; this is how we can weave a subtle and powerful story.
Zynbel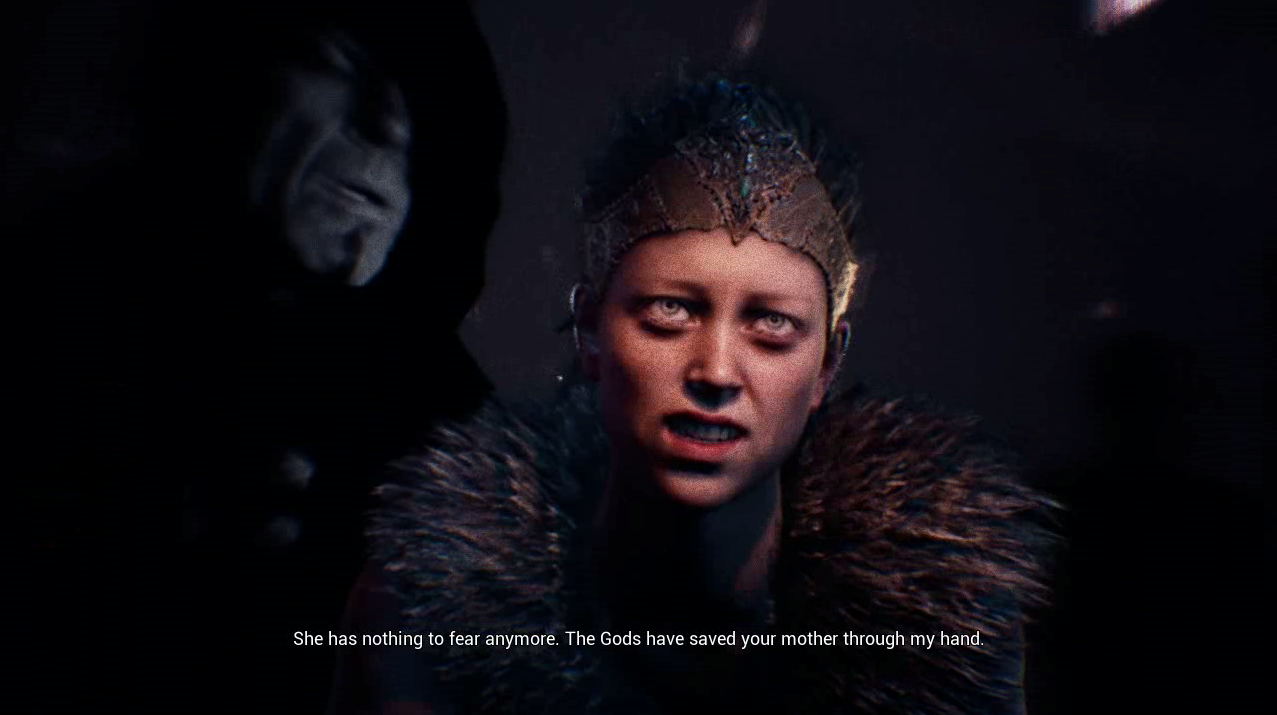 Unlike Druth, who notes he was mocked for speaking his truth, Zynbel, as a character, operates in the recesses of Senuas mind, or in the spiritual shadows (depending upon your view).
We never confront Zynbel directly until the very end of the game, though he makes his appearances throughout as a booming, demonic voice and a malevolent presence. Often we are Zynbel and Senua speaks as if to us. Sometimes his voice issues from Senua. In terms of the story, he could either be seen as a demonic presence or Senuas deepest fears and insecurities.
From a writers point of view, Zynbel can more definitely be thought of as the authors voice whispering half-truths and prophecies into the readers ear. Whether being malicious,
"You will never be rid of me, I am your shadow. And I will be with you until you breath your last dying gasp."
Or empathetic,
So you will walk into the lair of the beast, look it in the eye and you will go to war. This is your mission. This is your quest. There is nothing else left.
Zynbel is the voice of omniscience. While he might twist the truth, Zynbels spirit or specter never lies to Senua unless it is in a memory, such as the one we see upon finding out the fate of her mother, Galena. Furthermore, Zynbel pushes the plot continually; Senua's fear of him, of being like him, of being what he claimed she was, pushed Senua constantly. In this way, he is the plot.
This may seem like something that has no bearing upon writing, but it does; as a novelist, you are the guiding hand and the plot. Like Zynbel the author must operate from the shadows, however. Pushing, prodding, antagonising, and occasionally empathising with the characters are the best ways in which we can create tension. Removing traces of the authorial hand from a novel is a part of the editing process, in many ways, but we can simply melt away if we think of ourselves not as the author but as the protagonists' main antagonist.
ValRavn, Surt, And Gramr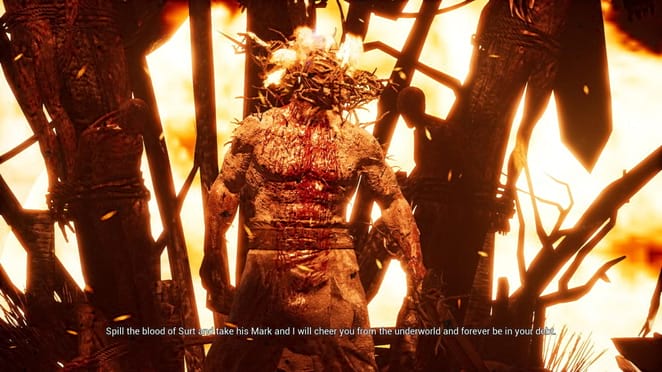 Finally, while this game has enough fat to chew for a lifetime, the various minibosses that Senua faces are so symbolic that it almost loses subtlety altogether. Interestingly, this is where Druth comes back in; by giving the mythological history of Surt and ValRavn he provides enough blur to once again obscure the mechanics of storytelling.
The concept of having characters fight their demons literally is not new, what we can learn from the way Hellblade undertakes this common technique is how to embody the struggle in a more complete way. For example, ValRavn could represent Senuas mental illness, her hardships in the wilds, her emotional abuse, or some people have even stipulated that he represents an instance of sexual assault. In fact, he could be an embodiment of all of this; ValRavn is secondary to the environment which Senua must traipse through to find him for our purposes.
The continual misdirection, the shifting landscape, the ominous sense of being watched at all times is representative of what Senua struggled with as a mentally ill woman in her pre-modern society.
Likewise, when dealing with Surt the broken, blood-smeared, dangerous environment, complete with sudden bursts of flame represents the consequences of Senuas rage more effectively than Surt does as the embodiment of her rage and suffering.
Once again, as writers, it is hard to encapsulate the visual and auditory elements of these levels. What we can learn from them, however, is that there is more than one way to have our characters face their demons. And, more importantly, very often the actual fight with the proverbial demon is not as difficult as coming to face it. In this sense, the environment represents Senuas delusions about her mental state; as writers, we can mirror this with the worlds in which we place them.
Gramr, or the beast guarding Fenrirs lair, is practically the embodiment of her illness. Unlike Surt and ValRavn, Gramr is found in a landscape that has no obvious dangers. He hunts her through the shadows. In this place the dynamic is reversed; Senua is not willing to face this demon. She keeps Gramr in the shadows. And so finding him is not the trouble – facing him is.
And so we must know when to make our characters work for their improvement, and when to force their demons upon them.
If you want to join the #Authortoolboxbloghop you can find more great blogs and sign up HERE.